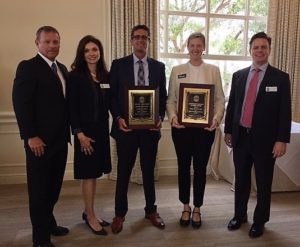 President Elect Charles Telfair, IV, President Alexandra St. Paul, Jaime Delgado, Tracy Pratt, and Past President Paul Grondahl 
At the Annual Meeting of the association in June 2016, the Manatee County Bar Association recognized two members for their record of service to our community.  In the 20th annual presentation of the awards, Bradenton attorney Jaime L. Delgado received the William C. Grimes Award for Lifetime Achievement in Community Service and attorney Tracy B. Pratt received the Community Service Leader Award.  The purpose of the awards is to highlight members of the Bar Association who provide service to the community through participation in organizations and activities beyond the scope of the Bench, Bar and mandatory pro bono legal services.
Attorney Jaime Delgado was born in El Paso, Texas.  After high school, he enlisted in the United States Air Force and was an Inertial Navigation Systems Specialist on F4 Wild Weasels.  He graduated Summa Cum Laude from Inter-American University of Puerto Rico and earned his law degree from Stetson College of Law and a master's degree in Business Administration from Stetson University.  A partner in the law firm of Kallins Little Delgado, and past winner of the MCBA Community Service Award, Delgado primarily practices in the areas of Personal Injury and Criminal Defense
With a wide range of charitable and civic affiliations, he has been a Past President of the Gulf Coast Latin Chamber of Commerce, Past President of METC, Past President of Manatee Community Action Agency, and is the current Chair of the Community Leadership Council for USF Sarasota-Manatee.  He is a current member of Legal Aid of Manasota, UPL Florida Bar Committee and the current Attorney Coach for the St. Stephens Episcopal School Mock Trial Team.  He also has served as a Judge in the Teen Court Program and is a past member of the 12th Judicial Circuit Florida Bar Grievance Committee
Mr. Delgado summarizes his most significant contribution to community service by saying: "Community service is very simple for me.  I try to help out wherever I can.  It is a way for me to try and shape policy at a local level.  I must admit, I have very little involvement in professional organizations as I concentrate on more educational or non-profits.  As a first-generation citizen, I know that it only takes one generation to change the path of a family."
For these reasons and more, attorney Jaime L. Delgado has earned the 2018 William C. Grimes Award for Lifetime Achievement in Community Service. 
Tracy currently serves as the currently serves as the Vice Chair of Project 180, a non-profit that helps individuals reintegrate from prison back into community life.  Highlights from her resumé include working with Innocence Project New Orleans, and helping death row exonoree, John Thompson, start a first-of-its-kind housing and transitional support program for exonorees; and, working with the Louisiana Civil Justice Center to coordinate legal aid services around the state after Hurricane Katrina, and to coordinate free legal assistance for those effected by the BP oil spill.
Here in Florida, she has been the Vice President of Healthy Start Manatee and is a current member of the Florida Association of Criminal Defense Lawyers, and the Florida Association of Women Lawyers.
In accepting her award, she discussed how "growing up poor, in a single mom household" shaped her future as one that wants to be an advocate for those who are most vulnerable.
For her dedication to many good causes and her support of youth in our community, Tracy Pratt is a worthy recipient of the 2018 Community Service Leader Award.
Nominations for the awards were submitted by fellow members of the Manatee County Bar Association.  To ensure the integrity of the judging, a panel of community representatives was assembled by Committee Chair Fred Moore.   Members of the judging panel that evaluated the nominations and selected the recipients included founder of Grapevine Communications, and founder of the women's giving circle, Sisterhood For Good, Angela Massaro-Fain, and the Honorable Charles Sniffen, of the 12th Judicial Circuit.