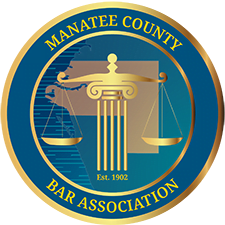 The MCBA is proud to have such wonderful members!  The "100% Club" is a special recognition within the MCBA reflecting our members' commitment to the advancement of the legal profession while enhancing the community.   To become a member of the "100% Club", every attorney in your office must be a member of the MCBA.
2017-18 Members are:
Law Office of Andrea M. Johnson, P.A.
Tilden & Prohidney, P.L.
Porges, Hamlin, Knowles & Hawk, P.A.
Law Offices of Matthew Z. Martell, P.A.
Lisa Bell, PA
David P. Johnson, Esq.
Proctor Elder Law, PA
Mackey Law Group, P.A.
Affordable Attorney, Gerling Law Group, Chrtd.
Legler, Flynn, Murphy & Battaglia
Edward B. Sobel, PA
Donna Irvin Sobel, PA
Law Office of Mark A. Nelson, PA
Lisa Gonzalez Moore, Esq.
Baker, Paul & Dorman
Kallins Little Delgado
Larry R. Chulock, PA
Manatee County Attorney's Office
Greene Hamrick Quinlan & Schermer, P.A.
Firms with 100% attorney participation will be:
Listed in Inter Alia
Listed on the MCBA Website
Sent a special "100% Club" web badge to be used on their website, and in advertising
The MCBA's "100% Club" is open to renewal each year, as it does not automatically renew due to changes in firm rosters from year to year.  Firms must renew each year to participate.
To become a member of the "100% Club" for the 2018-19 year, please submit your request via email to Executive Director, Graceann Frederico at MCBA@ManateeBar.com  no later than, September 30, 2018.  Include a listing of all attorneys in your firm.  Once the names are verified as active members of the MCBA, and approved, your firm will be added to the MCBA 2018-19 "100% Club" listings.  Firm must re-apply each year and will not automatically be renewed.